September 21st, 2012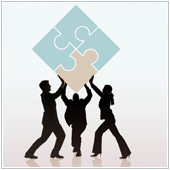 As the business owner or CFO you work closely with your IT team or MSP to evaluate the latest technology to improve the business. Balancing costs with the promised productivity gains of new business management software – like ERP or CRM – is a challenge. It's tempting to believe vendors who promise better customer insight or more efficient processes that could give you competitive advantage.
There is a different way to approach IT Taking an objective approach can help you cut through the hype to focus on the most important functions for your business. An analysis of the business processes that drive the strategic objectives of your organization will help you define what technology you need and perhaps more importantly, what you don't.
Analyzing current business processes doesn't have to be overly complex. Bring key stakeholders from each department together to whiteboard the processes that support departmental objectives. Include people actually doing the work – not just managers – to ensure that the evaluation truly reflects daily operations.
Once the processes are defined, focus on trouble spots – where do customer requests get lost, what tasks take a lot of manual effort, where is there interdepartmental friction. Discussion has to be open and honest with a focus on solutions, not blame.
Ask the right questions The next step is when you want to pull in the technology experts. What technology will help you solve the issues that you have identified? Are there additional ways that you can streamline processes or differentiate your business with new technology?
When you have specific questions to ask the IT team to help you answer, you control the process. The business objectives will remain the focus of discussion instead of the technology. Let's talk about how you can take a fresh approach to choosing the business management systems that fuel your business growth. Call us today.

Published with permission from TechAdvisory.org.
Source.