About Us
The Depth, Strength & Experience for your Business Technology needs.
Our Founder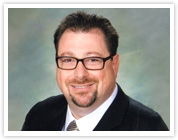 Dominic Gennello founded our company in 2001, after managing the Network Systems and Information Security at New York University's prestigious Stern School of Business. He is now a Network Systems Engineer with GenTech, and has become one of the area's leading experts in Network Systems and Information Security Management.
With twenty years experience in emergency services, Dominic has provided management services to various public agencies and private corporations, and developed a variety of programs designed to enhance system-wide responses to critical events. A graduate of Rider University, Dominic has completed training from national venders such as Microsoft, Novell, Symantec and Dell. Through numerous certifications and partnership programs, Dominic continues to grow with and contribute to the information technology field.
Our Company
GenTech Systems Management, LLC is a registered and fully insured Limited Liability Corporation in the States of New Jersey and Pennsylvania. We are a Technology Services Company providing business technology Sales, Support, Integration and Innovation services for clients from Boston to Washington, DC. At GenTech our focus is not on selling the customer more technology, but rather about outfitting the customer with the right technology scaled to fit their specific needs.
Working with hundreds of SMBs in a variety of vertical markets, we see trends and technologies that other, more industry-focused IT pros would miss. This allows us to bring new ideas to the table and to better serve our clients.
At GenTech Systems, we've been servicing our customers in the New Jersey, New York and Eastern Pennsylvania region for more than 10 years and we pride ourselves on doing it right!
Our People
All of our technicians have formal educations in technology, hold the most current industry certifications and most importantly, are good people. When you hire GenTech you will be treated as if the technician works directly for you. We will be on-time, dressed properly for YOUR business environment and we will get the job done as unobtrusively as possible.
Here's why so many businesses depend on GenTech for IT service and support:
Our Certified Microsoft Partner status - reserved for companies that demonstrate excellence in implementing Microsoft technologies
An entire team of experts at your service - dependable consultants and engineers that work as your partners in IT and success
Round-the-clock technical support - IT help when you need it most
Technology services from GenTech are designed, created and implemented with your unique business needs in mind, so you know you'll see a return on your IT investments today and in the future.
Discover why so many businesses are turning to GenTech for the best and brightest in IT support